VFW News
Patriots Pen Essay Competition
Top prize $5,000 plus 46 get at least $500; Open to 6th to 8th grade.
2019-2020 Theme: "What Makes America Great" .

Post 26 had 20 entries for the 2018 contest. Our winners were: 1st Prize: Audriana McHugh (not in photo); 2ndPrize: Claire Francis; and 3rd Prize: Noah Adams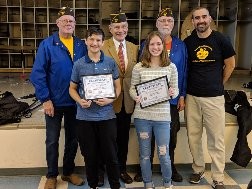 Claire Francis's Patriot Pen essay was judged third in the VFW 7th District contest and was included in the District submission to the New York State contest.
Post Officers:
Commander: Floyd Watkins,
Sr. Vice: Michael Hayes,
Jr. Vice: Ron Zuber,
Quartermaster: Dave Dinehart,
Chaplain: George Jamieson,
1 Year Trustee: Rich Morrow,
2 Year Trustee: Tom Reynolds,
3 Year Trustee: Tom Moon,
Adjutant: Walt Eckhardt,
Judge Advocate: Peter Treible,
Surgeon General: Rich Morrow,
Service Officer: Tom Moon,

VFW Events for 2019

Memorial Day May 27
Independence Day Jul 4
Crossroads Days Aug 3
HF-L Homecoming TBD
Veterans Day Nov 11


Picture Gallery


| | | | |
| --- | --- | --- | --- |
| VFW | | POW/MIA | |
| | | | | | |
| --- | --- | --- | --- | --- | --- |
| Army | Marines | Navy | Air Force | Coast Guard | Merchant Marine |
KENNETH B. KEATING VFW POST 26
OUR POST, the Lima Bicentennial Post, was chartered on 13 September 1976 and renamed the Kenneth B. Keating Post on 14 December 1981. The biography of Kenneth B. Keating can be viewed by clicking here.
For the names of VFW Post #26 Charter Members click here.
THE VETERANS OF FOREIGN WARS: History
The American Veterans of Foreign Service (Columbus Ohio) and the National Society of the Army of the Philipines (Denver, Colorado) were organized to secure rights and benefits for veterans of the Spanish-American War (1898) and the Philipines War (1899-1902). They merged in 1914 creating the Veterans of Foreign Wars of the United States. VFW was chartered in 1936 with the mission of organizing war veterans committed to insuring the rights, remembering, sacrifices, promoting patriotism, performing community services and advocating for a strong national defense. At present, VFW Membership stands at approximately 1.8 million in all 50 states and 19 foreign countries with more than 9000 VFW posts.
ARE YOU ELIGIBLE TO JOIN VFW?

To be eligible to join the VFW the person must be honorably discharged from the United States Armed Servicer, received a campaign medal for overseas service; have served 30 consecutive or 60 non-consecutive days in Korea; or have ever received hostile fire or imminent danger pay; then you are eligible. The DD214 form is used to verify eligibility by submitting this form with your application.

WHY JOIN?

Join us to become involved with insuring the rights and proper care for all veterans and promote patriotism in our community.

WHAT WE DO AT POST 26.

Distribute Buddy Poppies to support our troops and provide aid and comfort to veterans, veterans families, widows and orphans.

Pay homage to Vets on Memorial Day click here to view the pictures and Veteran's Day, as well as specifically honoring deceased Veterans at Memorial Services.

Conduct the annual Voice of Democracy and Patriots Pen Scholarship Competitions at the local schools.

Sponsor our annual Downhill Derby since 29 July, 1986. Last year, the cars were to sold people who bought them from us refurbished them and had their own downhill Derby. The cars and the group are shown in the picture below.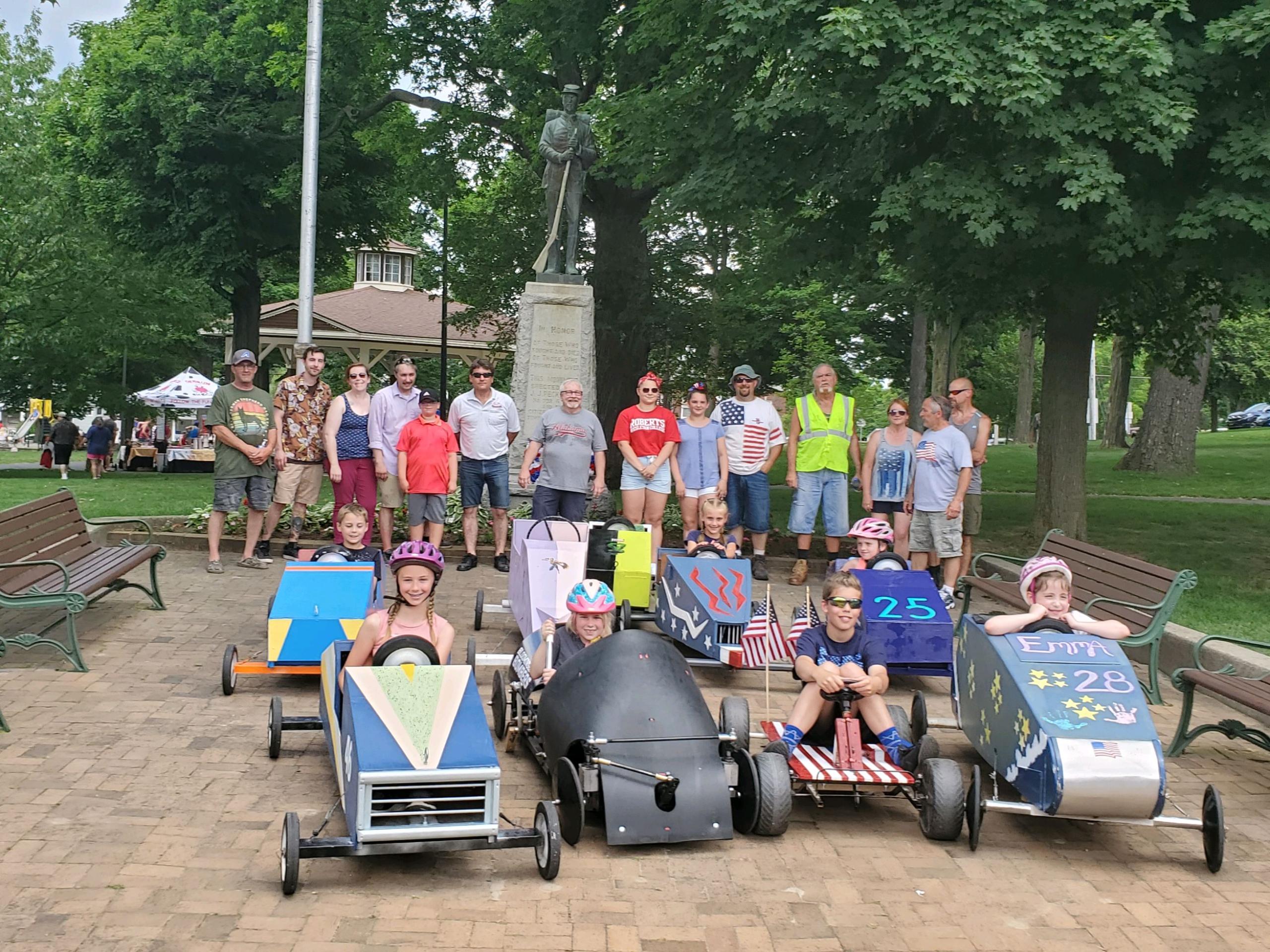 HOW WE FUND OUR ACTIVITIES

The Post is supported by member dues, poppy donations, and other fundraisers.
Last year our VFW Post raffled off a home made quilt made by Sandi Shusda of Lima.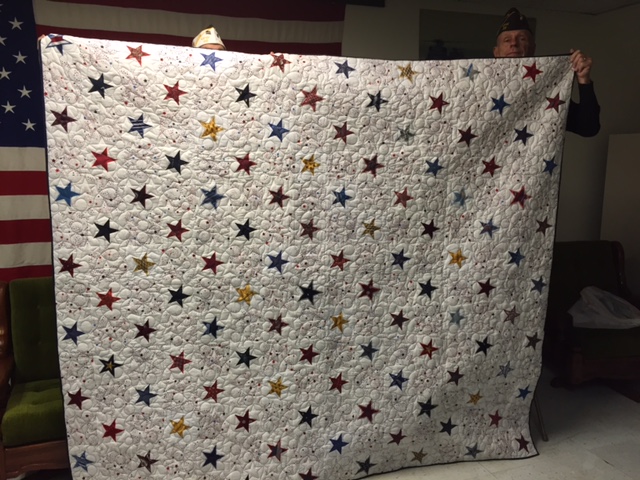 In part she used neck ties donated from our yearly garage sale. The quilt was raffled off during the Veterans Day activities. Mary West from Conesus was the winner. Congratulations Mary!
Meeting Location:

2475 NY 65
West Bloomfield, New York
In the American Legion Post 282 Facility
Meeting Time:
Post Meeting
2nd Wednesday
at 7:00 p.m.
Mailing Address

KENNETH B. KEATING
VFW POST #26
PO BOX 361
Lima, NY 14485